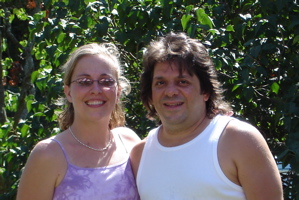 I've been putting this off .. a year to be exact. I never finished the sad story about losing my friend Tina. Today was a beautiful day outside .. I went for a long walk with Rex and looked up to the sky thinking of her. It's already been a year to the day that she slipped away. Just a year before on the very same day, we shared the stage one last time at Santa's Village. I can still remember her smile .. it was special for both of us, truly magical. I really didn't think it was going to be our last show .. we had actually planned another about a month later … but, it wasn't meant to be as she was still recovering from surgery.
Tina was more than a friend, more than a Chezababe … she was my girl. From the day we met, we spent nearly every day together for almost five years. That's a long time to put up with me … she deserves and award for that alone. Of course we had our ups and downs .. there was plenty of chaos, and that ultimately sent us in different directions. There is so much to say about her, so much talent, the energy she had .. and how much we loved each other. It was easy to see in some old pictures I just came across. We really had something special .. and I was a coward never to marry her. With that said I've got to finish her story and lay it to rest.
It was just last September .. I was lucky enough to visit her one last time, a week before she passed away. She was very frail .. the cancer had spread through her body. To this day I can't understand how a God above would let this happen, and I'm still very angry about it all. I knew deep down inside, it would be the last time I would see her .. how do you say goodbye?? She even had me fooled right up till the end, she called me on Monday and told me she needed to get some rest after a busy weekend. She went to eat at the Cracker Barrel and then took a ride on the back of a motorcycle. For a second I thought .. she's going to beat this, miracles do happen .. right??
On Thursday, she slipped into a deep sleep and a few days later, I got the call. I was preparing to go on stage in Appleton, Wisconsin. It was her sister Stacy .. and I knew what was coming next. Her family was with her at home .. she took one last breath and with a crash of thunder she was gone. It rained heavy for about five minutes, then the skies cleared. At the same time, I remember walking outside as the rain came crashing down on me .. I couldn't believe she was gone.
After returning home, I drove out to the small town of Marseilles. It was a very sad time for everyone, she had touched the lives of so many people. At least she was finally at rest and no longer in pain. Our story has finally come to an end and Tina finally got her flowers ..
I'll never forget you babe ..
Steve
Christina Michele Ryan
November 12, 1975 – September 17, 2006