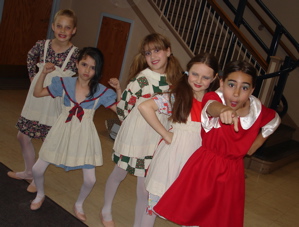 It always seems to be the case around here. Last weekend I was all over the place, now it's days later and I can't even remember where I've been. Oh, now I remember .. last Sunday I ventured back to my old hometown of Brookfield to perform in a dance recital. Ya .. a dance recital, no .. I didn't strap on my Capezio's. My job was simply to add a little magic between things so the girls had time to change. Here you'll see the girls ready for the Annie number. The show went really well and only ran just over two hours … a record for one of Ann's productions.
I did take a quick trip past my old house, it was really fun to see the old neighborhood I grew up in. Much of it was just the same, they did rebuild the park I use to play in. By todays standards it would have been considered a death trap with the lack of safety rails and lead paint. Some how I managed to stay alive without all those safe guards .. go figure. Almost forgot .. the fallout sign. This was on the school I performed at earlier in the day. Yes it was that interesting that I had to take a pic of it .. and it's pretty worn as you can see. I remember this very sign from when I was a kid.
I never really understood what it was but, it was the original from at least 35 years ago or so. It of course was a different time and most of you don't even know what a fallout shelter is. You can look it up online .. we didn't have the Internet back then either, how did we survive??
As soon as I was packed up it was off to Max & Erma's in Woodridge for my close up gig. It was a long, yet productive day .. I probably worked on more stuff when I got home. Anyway .. the very next day it was off to Batavia to work with some fellow performers at one of the schools. I was joined by Ken Mate, Circus Boy and even the legendary Marshall Brodien.
We entertained the crowd of well over 500 screaming kids. Afterwards we had a nice lunch together and it was back home to get ready for Rex's training .. after all it was Monday night. The days are long .. eventually I do get some rest. I'm usually out minutes after my head hits the pillow … go figure.
Steve