Where to start, it seems another month has flown by and we're still waiting for summer to arrive. Memorial day was hot .. in the 80's and then it dropped like 40 degrees over night. Plenty of rain over here, my grass seems to finally be filling in … I've been working on that for years.
My mother returned from two weeks in Florida with a touch of something. She wound up in the hospital for almost a week and made it home in time for our little cook-out last Monday. This was my puppy Rex's first grilling experience. He was a bit confused that we were eating on the porch. The tray of hot dogs and hamburgers was within his reach. He helped himself to a snack .. it was pretty funny.
We are preparing for our summer festival shows right now. Angel came over to try out some new things that we'll be using soon. There's a lot of work behind the scenes that many don't realize. The props, the routines, the costumes, the music and so on. It all comes down to the last minute and once the show gets going, it's like a roller coaster. I guess it's the best way to describe it .. it doesn't stop until it's over.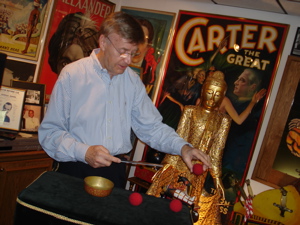 Last night I took some time off to visit one of my close friends, Marshall Brodien. In the magic world .. he's a living legend. His TV Magic Cards and Magic Sets are probably responsible for getting more kids into magic than anyone else .. including Lance Burton and myself.
I can't tell you the trill it was to play with my magic set after school when I was just a little magi. I've written about Marshall many times before, he's one of my heroes. We went back and forth showing each other card tricks .. fooling each other and then sharing each of their secrets. Even at his age, he still fooled me many times over. He's been an inspiration to thousands of magicians all over the world .. I'm lucky enough to call him my good friend.
Steve