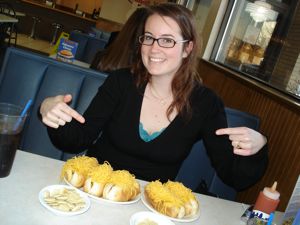 I'll get back to that .. in a bit, now on to day three of the Fest.  Once again the stage contest began at the ungodly hour of 8am.  Don't get me wrong, I really do enjoy seeing the new kids do their thing and I want to support them .. but, sleep won again.  After rolling out of bed around 9:30am, I hit the shower .. stopped at the gas station and headed over to the convention center.  Sure enough if I moved a little faster I could have caught the last act  .. oops.  There was a great lecture and it was time for my annual visit to Skyline Chili .. it had been quite some time since I had the real deal.  My friend Carol came with to give it a try .. and I think she actually liked it.  She was pretty excited as you can see in the photo .. I guess it really doesn't take much.
After filling up on Coney Dogs .. we  went back and stopped in the dealers room and waited in anticipation for the final show of the convention.  The last show started late .. and unlike the previous events, this one was painful to watch.  It dragged on over two hours … no intermission,  just torture.  I'm a fan of "bad magic" but this was in a class of its own.  I guess there is something for everyone .. that's one way of looking at it.  Not everyone was terrible .. but, it just didn't flow .. and it seemed like it would never end.
I think we had a late night snack at White Castle, complete with bullet-proof glass at the counter.  That's usually a red flag .. but we survived.
Sunday was a day of driving for me,  so first stop was breakfast at the Waffle House.  We don't have those out this way either .. so, I had to get it while I could.  I dropped Carol off at the airport and I headed up north to Toledo to visit friends up that way.  I was simply going with the flow and the next thing you know .. I've got the cops behind me.  It's been years since I've been pulled over .. over ten years or so,  I don't even remember.  The speed limit dropped from 65 to 55 on a short stretch of highway.  I of course didn't notice and a nice officer pointed out that I was doing 74 in a 55.  I was polite and all .. he got me fair and square.  I didn't want to look at the fine, as I didn't want to wreck my day.  I'm on vacation after all .. and these days we're watching every dollar we spend.  This .. was not expected and $155.00 later,  I'm not too happy.  This was an obvious speed trap to generate revenue for the state.  I guess I can't complain too much .. it was my fault and I own up to it, call me an outlaw if you will.
I had a nice visit with the Redwine family, played a little Hide & Seek with the boys and it was time to head back home.  Another five hours later and I would be back in my own bed, night for now …
Steve