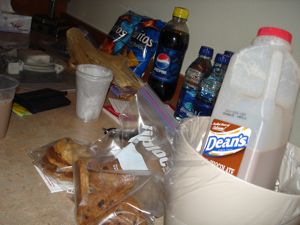 So I'm sitting quietly after a busy day or two of traveling.  I've got my handy MacBook that I actually bought for last years Magi-Fest adventure … that I had to cancel last minute.  Last night I finished my "Family Night" gig at Buffalo Wild Wings in Naperville, made quick stop at home and hit the road by 9pm.  My plan was to drive half way and stay over night in Indianapolis.  Lucky for me the roads were clear and dry and I stayed right on schedule.  I lost an hour along the way and it was after 1am by the time I arrived at the hotel.  I was tired so it was pretty easy getting to sleep.
After I got some rest it was off to visit with Mrs. Sheppard in Vandalia Ohio.  She's been a very special person in my life for many years.  We had some lunch and had a nice visit.  Next stop was to pick up my friend Carol who was flying in from San Jose to attend the Magi Fest.  Again I was right on time and even stopped at Mc Donald's for a Coke.  The festivities would begin at 6:30pm and we were ahead of schedule … a first for me.
There was an opening night show that had some fun moments in it and of course the dealers room was open with magic props, books and memorabilia for professionals and amateurs alike.  We grabbed a quick dinner at Bob Evans and it was getting late after a long day.  Now I'm just winding down watching a little bit of Nancy Grace and typing away.
I get to sleep in tomorrow and then a visit to the Cabbage Case factory.  I do a little magic for the guys in the shop and then lunch with my friend Mike Hannah.  I always look forward to visiting with my friends out this way .. and there is so much more to do.  Time for bed …
Steve