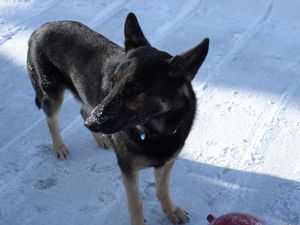 It's already been a long, cold winter .. for some reason it seems that January lasts forever.  We had a fresh layer of snow last night .. and the temps are beginning to rise.  A few weeks back we were at -20 below zero .. without the windchill, it was our actual temperature.   I can take the snow .. but, the cold is just too much for me and my boy Rex.
Next week I'll finally be making the journey to Ohio for the 2009 Magi-Fest.  Believe it or not it's a group of magicians that get together in the dead of winter to share their secrets.  There are lectures, contests, dealers rooms and full evening shows open to the public in downtown Columbus.  It's a fun time to see my friends out that way and the drive helps me clear my mind.  In fact I come up with some of my best ideas while on the road.
I'll have my little camera with and be sure to catch some interesting moments as usual.  Until then .. stay warm, stay healthy.
Steve
P.S.  Don't forget to watch the Masters of Illusion show, Monday nights on WPWR.  If you're a fan of magic .. you'll be sure to get your fix.