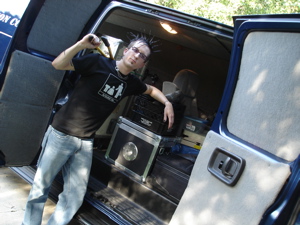 He was in for just a few days .. but, he had me going like it was a race against time. We had a lot to accomplish before it was back the WGM Show in Vegas on Saturday evening. I picked him up Thursday afternoon and we grabbed a quick lunch at Charley's. It's actually my new favorite sandwich shop .. try the chicken teriaki. From there it was off to Dan's secret "Warehouse of Illusions" .. or simply the Public Storage on Rt 38. It was time to clear it out and ship the remaining illusions off to his new hometown. It was a good thing I emptied the van ahead of time .. because it got full … pretty fast as you can see.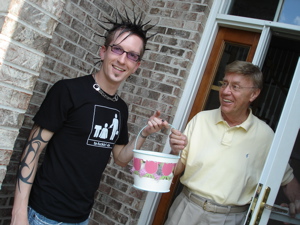 Next stop was the little town of Geneva. we had to pick up a car and a dove for a show Dan had Friday morning .. at all places but a Kinder Care, go figure. While we were in the area we stopped by for a quick visit with the "Godfather of Magic" .. none other than Marshall Brodien. Dan showed up with an Easter basket full of eggs .. go figure. Marshall was excited to show us the new TV Magic Cards that will be in stores soon. Of course they are the very same cards that got me interested in magic years ago.
It was time to head back home as we were all going out to dinner for my brother's birthday. We met up with Paul, Val and my mother for some fine dining at Maggiano's Little Italy in Naperville. It was a fun time and we had plenty of food to take home. You'll have to figure out who's who in the photo.
Dan was up early on Friday for his show, I was up soon afterwards to take care of things around the house. When he returned we were off to Forward Air to get his props off to Vegas. That was a whole ordeal itself .. but, I won't get into that.
Friday night we grabbed some dinner at the Colonial Cafe. Our favorite waitress was there .. and looking good. It was already after nine and we still had to drop off the car and dove that Dan borrowed. We stayed to visit with fellow magician Mark Holstein and caught up on things. It was after midnight by the time we got back to my house. Dan's flight was in the morning .. so we had to get up early once again.
As I always say .. "No rest for the Wicked!"
Steve