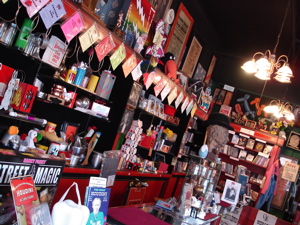 So, I had some time open on Saturday afternoon and decided to go into the city to visit a couple of the few remaining "brick and mortar" magic shops. I met up with fellow magician, Paul Lee for lunch and we were on our way. Our first stop was Magic Inc. on Lincoln Ave. It's actually one of the oldest magic shops in the country.
Years ago you would find Jay Marshall roaming just behind the counter. I've been coming here since I was a kid. It's still a thrill to see all the "stuff" on the shelves, the walls .. and even the ceiling! There's always something new and I love learning magic .. just like when I was young. We bought a couple of things and then off to Ash's Magic on Western. Of course Mr. Ash was out doing a show .. putting both of us to shame. He's got to be in his 60's or so and he's still performing. I always get a kick out of watching him .. he's just a naturally funny guy. He just has a way of telling his stories .. and his accent, it always gets me. In a loving way .. his shop is like a garage sale of magic. There are tricks, masks, jokes and books … everywhere. Only Mrs. Ash can quickly navigate the shelves and find what you're looking for. We dropped some cash there and it was time to get back home. We were going to meet up with some friends for dinner and a show.
This past month has been really surprising. I've been doing quite a few last minute shows for the Cub Scouts. Apparently it's "Abracadabra" month for the boys and I'm always glad to perform for them. These are smaller gigs by myself but, I still have a nice program just for these groups. I was just getting into magic right around the same age when I was in Cub Scouts. When we had a magician for the Blue and Gold banquet .. it had a huge impact on me. Hopefully I've done the same for the next generation of wizards.
In other news, my mother has made the journey down to Florida for two weeks. I rarely have any time to myself and I've always got a lot to catch up on. Her schedule is filled with doctors appointments and I'm the driver. She took care of me when I was young, now I have to take care of her. Of course I'm making the most of my new found freedom .. I can't believe all the things I did just yesterday.
Today should be a fun time .. my good friend David Seebach is in town for some work in Chicago. He's taking the train this afternoon to visit and stay at the Chezaday "Bed N' Breakfast." We'll meet up with Paul and Val at Buffalo Wild Wings in Warrenville for some dinner. It's always interesting when David comes out .. he always helps me with the effects I'm working on. His knowledge of magic far exceeds my own. He's an amazing performer who really cares about the art of magic. I too respect it as an art form that should be preserved.
After all … todays magic is tomorrows science.
Steve