I've said many times before that I have not led a very normal life. Â Looking back on what I've done in the past few months … you would understand. Â Sure, I'm not as busy as some people .. but I do fit a lot into a day. Â Although I don't have a "real" job .. somehow I've managed to survive.
Back in February we had a little road trip to see the Spencers perform up in Hartford, Wisconsin. Â Only days later I was shooting a new video with my good friend Morgan Strebler. Â It's an effect that will be sold to magicians .. an effect called Shadows.
The following week we ran into Weird Al Yankovic right here in Naperville. Â He was in town for a book signing .. and we snapped a photo. Â That's one more thing I can cross off my "bucket-list."
Since then things have been picking up and I'm back to doing regular shows every weekend. Â Somedays the schedule has been tight .. for instance the past two weekends we had shows at 7pm and 9pm. Â No big deal right .. but, they were different locations. Â This included sound, backdrops and 45 minutes of stage magic. Â Sounds impossible .. well, it was close. Â Of course I couldn't have done it without Carol packing things up behind the curtain .. during the show. Â  We pulled it off … and it was back to work the next day.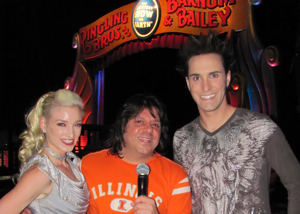 Speaking of shows .. we also got to go backstage to visit with my new friends David and Jamie DaVinci. Â They are traveling with Ringling Bros. Circus. Â After the show we had a nice dinner at the Outback and wound up talking for hours. Â Carol and I had a great time seeing their show in Champaige, IL back in March.
As I'm writing it's just about June and I've got a busy summer planned. Â I'll try to keep things up to date .. but, you know how that goes. Â I've got a few fun surprises in store to announce soon .. but, it will have to wait for now. Â I still have much to tell you but, its time to get moving … I've got a lot to get done today!
Steve