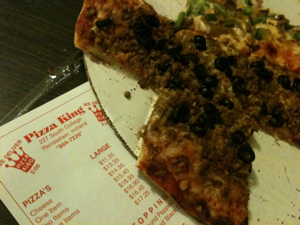 Let's just say .. I pack a lot into each and every day. Â I feel good, if at the end of the day I'm exhausted. Then I know I've done my job. Â I make no exceptions, especially if I'm out on the road for work or for pleasure. Â My trip to Ohio was a little of both … but, by the end of the day I was usually out like a light when my head hit the pillow. Â Let's turn back a few pages of my calendar and see how my adventure went.
The original plan was to leave later on Wednesday and stay over night in Indianapolis. Â My friend Carol joined me on the adventure to Magi-Fest once again this year. Â Last minute, I changed plans and we hit the road a few hours earlier so we could make it all the way to Dayton that evening. Â Our first stop was in Rensselaer, Indiana at a little place called Pizza King. Â It was little off our path but, well worth the drive. Â My good friend and fellow performer, Kevin Spencer had mentioned it more than once so .. we decided to give it a shot. Â Wow, it was well worth the detour. Â Not only was the pizza amazing, they had an old Ms Pac-Man arcade game to pass the time … it was pretty awesome!
After the long drive it was time to get some rest for then next few days would be busy. Â First order of business was a little breakfast at Bob Evans and then off to Mrs. Sheppard's house for a visit. Â It was great to see her and she was doing well. Â I see her every time I'm out that way .. she's a very special friend of mine. Â From there it was off to Columbus for the 80th annual Magi-Fest.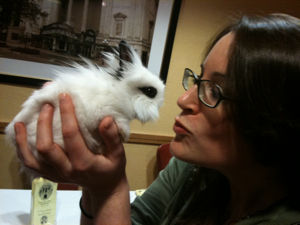 This years event was downtown at the Marriot .. and let me tell you, I'm not really use to staying anywhere fancy. Â It took a little getting use to but, I just couldn't relax. Â The parking was valet and so we had no access to the car unless we were leaving. Â I wasn't really prepared for all that. Â The other down side of things it that there was no where to eat after hours. Â Let's just say we survived on half a bag of chips and some soda out of the vending machine one night.
The convention was fun and some of the lectures were outstanding .. especially Jim Steinmeyer and Joanie Spina. Â The dealers room offered a good variety of apparatus and equipment that help us work our wonders. Â I think it would be pretty amusing seeing a layman walk through .. there are plenty of odd things to see.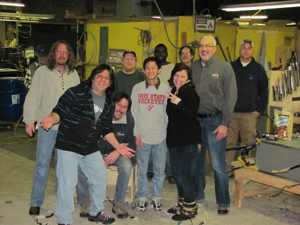 Friday we made our annual stop to visit my friends at Cabbage Cases. Â As usual, I brought along a few tricks to share with the workers. Â It's always enjoyable to see their reactions .. especially when I bring the magic to them.
Later in the day, it was time for a quick run to Skyline Chili with my good friend Tom Rozoff. Â It's the only time of year I can have a few of those Coney Dogs and the 3-Way Chili. Â I'm getting hungry just thinking of it .. it's killing me! Â Tom is always good for a few laughs and I've known him since I was just getting started.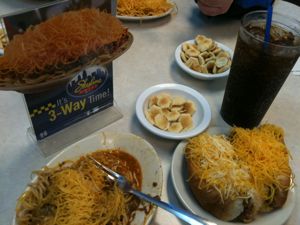 The convention is always well organized and one of my favorites to attend.  I'm not too fond of staying downtown but, we made the best of it.  I'll be better prepared next time .. and have some snacks ready.  On Saturday the dealers room was all but packed up by 5pm and the Headliner Show was down the street at Veterans Memorial Auditorium.  There was no reason to stay the evening so, we hit the road after the show and headed up to Findlay, Ohio.  This would save us a few bucks and we would have less driving to do on Sunday.
After a fun visit with Owen Redwine and his family it was time to head back home. Â Again it was a fun-filled journey and Carol survived. Â I still don't think she understands that I just can't sit still and relax .. it's just not my thing.
Steve