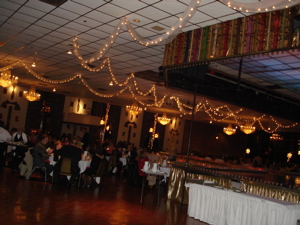 The holidays were a busy, I hope you enjoyed some time with your family.  We picked up a last minute gig at the Sabre Room, so we rang in the New Year with Rudy and the Sabrettes.  We actually did two spots in the show with Ken Mate right in the middle.
We had some fun volunteers including one of the oddest couples I've ever seen.  Of course from the stage it's difficult to see the audience but, when I saw their silhouette approaching the stage .. I wasn't sure where this would go.  Sharing the stage with me was Claire, who was covered in tattoos … and her boyfriend "Shorty."  Yes, he was a little person with a fun personality .. at one point he chased Angel off-stage.  In our second spot we had a fun girl help us with our "Spikes" illusion.  She was actually pretty scared .. but survived the ordeal.  The show went smooth and we packed up our things.  Once the van was loaded, we headed back in for the count-down.  It was time to head back home ..  after all, I had a long day.  I dropped Angel and her boyfriend Anthony off and figured I could pick up a little something on the way home.  Sure enough, my little Mexican restaurant was closed … so I had to settle for peanut butter & jelly on toast.  Of the two .. I guess it was a better choice at one in the morning.
Right now I'm trying to shake a nasty cold/virus.  I know I was coming down with something but, it got me.  Man .. I had the shakes late the other night,  it was terrible.  I think I'm just about over it .. at least I've got another couple of days off before I've got to work again.  I rarely get sick .. and not much keeps me down.  I'm really not much for sitting still .. just not my thing.  I'm almost back to 100% but, not just yet .. no sick days for me.
Steve