I see a bad pattern here .. it's almost been a month since I wrote, what's up with that. Of course it's summertime and I'm always doing something. In the past month we went to the Kane County Cougars game, I won a bunch of useless junk on ebay and attended the Naperville Ribfest three of the four nights. I saw Ted Nugent, REO Speedwagon and Joan Jett .. oh, and I did a couple of shows here and there. As you can see .. it's been a busy summer.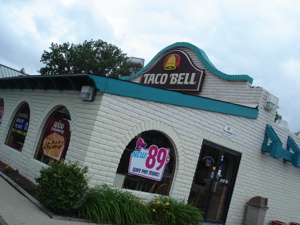 The big news around here is the local Taco Bell has closed it's doors. I still get teary eyed when I think of it. I'm there almost every other day for lunch .. for real. I know it's not the healthiest choice .. but, I'm hooked on that Mountain Dew Baja Blast. I'm starting to shake just thinking of that refreshing drink. I was under the impression they were simply going to knock it down and rebuild. The other day a "For Lease" sign popped up .. it seems that it's gone for good. Now my "Run for the Boarder" will be a longer drive .. 4.6 miles to be exact. Ya .. I'm a freak.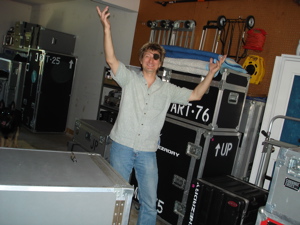 Today one of my good friends from California stopped by for a visit, in fact I think it's been over twenty years since he's been over. Craig Dickens is one of the top illusion builders in the country .. in fact you should check out his work at dickensmagic.com. Craig was originally from the Chicagoland area years ago. He's been building and performing magic for over 30 years now. We had fun going back and forth with the latest "magic" gossip. After a quick lunch at Portillio's we unpacked a few illusions so he could get a close up view of my favorites. A couple of the newer illusions we hope to have in the show for the fall .. so, we'll see.
In a few weeks I'll be heading out to the Abbott's Magic Get-Together in Colon Michigan for a few days of relaxation. I really don't get much of that anymore .. but, it will be nice to get away. Until then .. I've got to get some sleep, it's already after 2:00am and Criss Angel's Mindfreak is on. One episode after another, it's bedtime already …
Steve