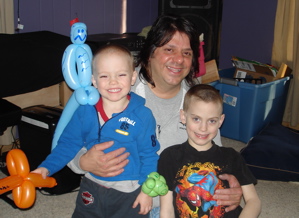 Just last Friday I took the day off to visit some friends. There are still plenty of things I've got to take care of before I even get out the door. Sure enough that's when everyone needs to talk to me, the phones ringing off the hook. I was only 30 minutes behind schedule by the time I was actually on my way that of course was after a stop at the car wash, the bank and the post office. My first stop was over an hour away, in the little town of Marseilles to see Tina's little boys. If you don't know Tina's story you'll have to do some catching up here on my Chezablog. It's actually been a year since I've seen the boys because of all the chaos with my friend Stacy, that of course was Tina's little sister. Anyway, as I pulled up I saw little Collin waving to me from the window. He has the biggest smile you'll ever see. I wasn't sure if he would remember me as he was only two last time I saw him. He came running up to me and said "Steve!" Of course he's talking now .. a lot, I couldn't believe it. His brother Tyler is now six years old and getting tall. As soon as I walked in they were all over my little briefcase of magic. Their energy is amazing and their smiles contagious. I must have made a dozen different balloon sculptures for them before I had to hit the road once again.
I still had a long drive ahead to Peoria, IL to see the Spencers show. As I watched the sun set, a million thought ran through my head. Hopefully Tina is watching her boys from above .. it still breaks my heart when I think about it all. The boys are in good hands and I'll watch them grow as the years pass.
As I'm speeding down the highway I'm trusting my little GPS to find my way to Illinois Central College. It was getting dark as I'm traveling down the back roads of the mid west. Nothing but an occasional farm house in the distance. I sure hope I'm going the right way .. was all I could think. The show was at 7:30 and I made it in plenty of time to spare.
The Spencers have one of the largest traveling Illusion shows on the road right now. I've know Kevin for almost twenty years now. He was doing the college circuit when I was just getting started. It had been more than a few years since I saw his show, so it was well worth the drive. If they are ever near your area, go see their show. Get your ticket ahead of time as they've been selling out every performance .. no joke. I can't say enough good things about the Spencer's show. This is what a magic show should be. Not only does Kevin have an amazing personality that instantly connects with the audience but, he brings a semi-trailer full of equipment. All the big illusions that you rarely see these days. I can't tell you how many times I've seen a performer work out of a suite case for twice the ticket price.
Of course there's not enough room to go through the show .. but, it's a fun time. He's got some great new illusions that you just have to see .. live and in person. After the show I met up with Keith Barber, the sound engineer for the show. He's also one half of gomagicgo.com .. your magic podcast, available on iTunes. If you're into magic you need to add them to your ipod .. it's a fun show to listen to and it's free! The crew was still loading out and I had a little time to chat with Keith, Cindy and Kevin. They're working of course so, our time was limited. Kevin invited me out to eat with them, of course I wanted to catch up on a million things. The clock was ticking of course and I still had a long drive ahead of me .. 2 1/2 hours home. Now, it was 10:30pm and I already had a full day as you could see. I'm not 20 years old anymore, and I could tell Cindy was concerned that I would make it home safely. So, I had to skip the dinner but .. I wasn't leaving until I got a tour of the rig. This thing is huge!! Not only is it a full trailer but, it's got living quarters for four people. I couldn't even imagine driving that down the highway. It was very impressive .. they've really got it all figured out. I know they were tired and we said our good-byes. Next time I'll plan ahead and get a room .. I just wasn't thinking I guess. Of course I made it home safely and in my bed around 2am. It was another long day but, I was really happy to spend some time with some special people in my life.
Steve