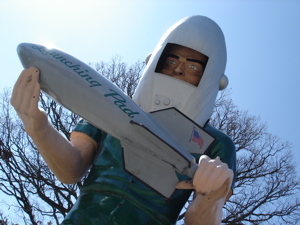 I know, it's been a month since I wrote. I have been keeping busy with shows .. and that's a good thing. It appears that spring has finally sprung in the Chicagoland area. It's nice to have the windows open even for a little while .. I love the fresh air.
I'm trying to remember where I've been these past few weeks. I met up with some friend downtown to see Ace Frehley at the House of Blues. I don't go into the city too often but, I had to see one of my childhood heroes. Ace of course is one of the original members of KISS .. and you know that's my band. The show started late .. almost 10:30 on a weeknight, yes .. I'm an old man now. It was loud and yes, I got my earplugs out. Nothing is worse that that annoying ringing in your ear for the next day or two. The concert was awesome .. they played a lot of old tunes I haven't heard in years. Ace hasn't been on the road in while but, he didn't let anyone down .. still amazing with his guitar.
Sundays journey brought me to a little town along Historic Route 66. The show went well and the weather was beautiful for a drive. After my show I couldn't help but pull over when I saw this giant figure along side the road … it was HUGE! Of course I had to take a pic for my site .. and grab a hot dog while I was at the Launching Pad in Wilmington, IL. When I have time, I always stop at these little places … it makes the journey all worth while.
Steve