Well, it's not what you think .. actually it kind of is. I'll get back to that in a bit. I'm still a few weeks behind here but, I've been pretty busy .. I promise I'll catch up eventually. After a few days in the country, it was off to the city to visit some friends. First stop was the factory of Fun Inc. on the west side of Chicago. My friends John Sturk and Tomas take care of things in the office. John promised me the tour … and I finally took him up on it. Fun Inc. is one of the countries largest manufacturers of magic and novelties .. including, you guessed it … fake vomit. It was very cool .. rows and rows of shelving filled with magic and gags. I was amazed at the amount of stock they have .. it was everywhere!
Most of their kits and products find their way into the consumer market. It's actually how I got started with my first magic kit by none other than Marshall Brodien. This was back in the 70's when TV Magic was on every other commercial. Of course Fun Inc. made most of the products in those kits and before that, they made the prizes you found in Cracker Jack. Now I am sounding like an old dude … back to the tour.
In one area they work on card tricks, assembling special trick decks. Around the corner are the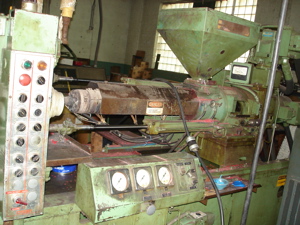 injection mold machines that melt pellets of plastic into pieces like the Ball & Vase or the Spiked Coin. Favorites of mine when I was just getting started. We headed upstairs to an area that was a wood shop at one point in time. Then John brought me into .. the "Vomit Room." It was just a little room set aside where they stir up a small batch of fake vomit at a time. As he told me .. each one is different, like a snow flake. I'm glad they take their job so serious. After the tour it was off for a quick lunch at Applebee's. John really gave a great tour .. I could have been there all day.
My next stop was at Rush University to visit a good friend in the hospital .. and I wasn't sure how that was going to go. I was pleasantly surprised to see Greg Bordner sitting up in a chair playing with a laptop computer. Greg is the owner of Abbott's Magic in Colon Michigan. He's been in the hospital for a few months now awaiting a very serious heart operation. For all he's been through .. he looked great. I could tell he was surprised and happy to see me. We visited for about an hour and I left him with a special movie to watch called "Big Fish." It's one of my favorites .. and if your a performer, you'll understand why.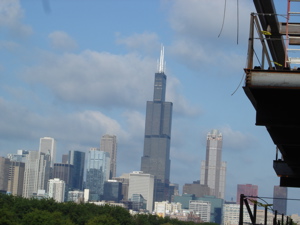 It was time to head back home, just in time for rush hour. It was a bit warm so, pulled off the expressway to grab a cold drink at Mc Donald's. I used my trusty little Magellan GPS unit to guide my way. Lets just say .. I was a little out of place in a bright red Hummer. I quickly made my way back to the main road and off to the suburbs where I belong. Don't worry .. I made it back alive.
Steve