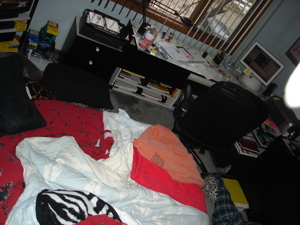 If you haven't guessed by now .. I've been a bit busy these last few weeks.  I just wanted to write a quick note before I pass out.  It's been a long day .. I just got home about an hour ago, then I had to go for a walk with my little buddy Rex.  Now it's after midnight and I'll probably watch an episode of "Monk."  I think it was actually Valerie that got me hooked on the show .. and now she calls me Monk for various reason.  Yes, I can be picky about certain things .. I just look at it as being set in my ways.  The thing is, the more I watch Monk .. the more I understand why he does certain things, and I would do the same.  I'm not saying I'm obsessive compulsive just yet … but, I understand.  I actually took a lot of psychology back in college .. and I know a thing or two about this type of illness.  Don't worry .. I think I'll be OK for now.
Anyway, I just returned from a last minute gig at the Sabre Room in Hickory Hills.  It's actually a pretty fun time working with the other acts and of course the Sabrettes.  I'm slowing down .. and I'll catch up on all this in a day or two.  I've got some fun stories to fill you in on .. including dinner with and internationally famous magician and friend, Brett Daniels.
More in a bit .. I've got to get some rest .. my body is tired, ya .. I'm getting old.
Steve