Yes, it's getting colder .. much colder around here.  I guess we're even going to get a mix of snow this weekend .. but that can only be expected as it is the middle of November.  It was even time to break out the flannel sheets once again.
Question: Where does a 95 pound German Shepherd sleep??
Answer: Anywhere he wants.
There's always something going on around here .. so let me see what I can fill you in on.  On today's agenda .. raking leaves.  Ya .. I know the life of a star.  If I don't get out there today it will never get done and it will only be a mess for winter.
We've had a few birthdays over here … one of our Chezababes,  Valerie turned 29 again.  So it was a short trip over to Cracker Barrel to celebrate.  She actually loves going over there .. I like it too.  Valerie has been with my show for 14 years or so .. I can't even remember.   She's pretty much family now .. Happy Birthday Babe.
The next morning I was invited to surprise my good friend and fellow magician, Ken Mate.
He'll actually be turning 50 next week … but we're keeping it quiet, here on the Internet.  Ken is an amazing performer .. and a great guy on and off stage.  We've worked all over the Midwest together .. for many years.  He's always on the phone trying to talk me into one of his crazy ideas, actually some .. not so crazy.  Over the years he has helped guide me to become a better performer.  I'm very thankful for his friendship.  Joining in the fun from left to right: Marshall Brodien, Mr. Ash and Bobby Schulien.  Ken of course is the old dude in the back .. Happy Birthday Ken!
Now it's time to prepare for our holiday programs.  We're getting everything ready for a fast  "set-up" as some days we're performing in multiple locations.  It's all part of the game .. everyone wants the same day, same time.  There's only one of me at the moment .. but, I'm working on it.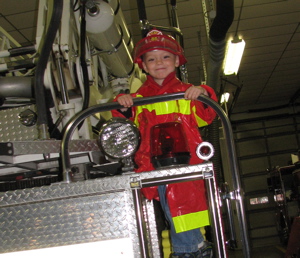 Before I forget, I want to share one more photo with you of one of my special friends .. Collin.  He just turned four and on his birthday he got to visit the local Fire Department in Marseilles, IL.  Collin is Tina's little boy .. you'll have to go back and read up on her, it's a long story.
Happy birthday little buddy,  you mean the world to me …
Steve