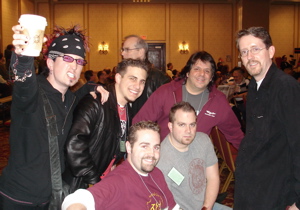 Its about 7:30am Saturday, February 3rd .. and sure enough Dan had a wake up call for us … it didn't work. Of course, we missed the stage contest .. but 8am is just a bit too early for rock stars like us. I think I was up and moving around 10am .. Dan still looked like death warmed-over, so I got cleaned up and ready for another action-packed day. We met up with my friend, Tom Rozoff for some lunch at Skyline Chili once again .. I could go for one of those Coney Dogs right about now. After lunch we made our way back to the convention and spent some time in the dealers room. We didn't want to miss the next lecture, Micheal Finney. If you get a chance don't miss him .. he's just an amazing speaker.
It was getting close to dinner time .. and we had it all planned out. We were meeting with the boys from the east coast and heading to the Outback for steaks. We had an awesome dinner there last year .. and we were all looking forward to it. Sure enough .. we can't find it, I know it was just down the street and on the left. We wound up at the Lone Star and they told us that the Outback was boarded up … looks like we'll be eating here! We had a nice dinner … the boys were working our waitress .. pretty funny to watch. There was one final show to see tonight at the Marriot .. so we made our way back. Now it's all coming back to me .. the show, well it was almost painful to sit through. The audience began to turn … and it was pretty sad. I can't really remember who was on that show either .. but the only thing memorable about it .. was how bad it was, and thats not a good thing.
Despite all that, we did have a blast hanging out with the boys .. and the convention was coming to a close. It was Sunday morning and we made quick stop to Tim Hortons for some donuts, then it was off to the airport to say by to little Danny Boy. He was flying back home to Vegas while I was heading up north to Bowling Green, Ohio to visit a friend. I always enjoy spending time with Owen and his family .. out in the middle of nowhere. They live on a small farm outside of Toledo .. lots of land out there. I wanted to get on the road before it got too late .. as the Superbowl was tonight, and the Chicago Bears were in it. I'm not a huge sports fan .. but I was happy that the Bears were in it .. finally! As I made my way across the Indiana Toll Road .. the weather got a bit rough. Blinding snow, and strong wind made the trip challenging. I managed to listen to the game on the way .. and the first quarter sounded like we were on the way to winning. By the time I got home .. well you know what happened … there's always next year.
Steve