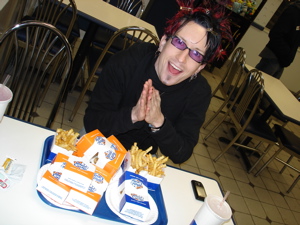 Now we're going back like three weeks .. my time line is all messed up, but I promise I'll get things back on track .. eventually. I know I've got to get some pics up on here .. but I've been having trouble with that .. I will give it another try though. Back to the story .. what I can remember of it. It's Friday, February 2nd and my buddy Dan is flying in from Vegas to meet me for the convention. It's about 11:30am at the Marriot when I see something freaky with red/black hair emerge from the taxi .. Dan had arrived. We threw his bag in the H3 and it was off to meet up with the crew at Cabbage Cases. I always make sure I have time for a visit and a little magic show for the employees. Its really pretty funny when all production stops in the shop so they can be entertained. After a quick show we went to lunch with my good friend Mike Hannah .. he takes good care of me.
After lunch we went back to the convention and hung out there until the bus ride to the theater for the evening show. We actually take old school buses to downtown Columbus .. and its all part of the adventure. It was a bumpy ride .. and we did have some Skyline Chili right before we left. The show was fun and one of the highlights was the MC of the show, Micheal Finney .. he's one of the very best performers out there .. and a very genuine person, he's way up there on my list of greats.The buses were lined up after the show .. and it was back to the convention for some late night festivities. To tell you the truth … it's mostly a bunch of nerds doing card tricks, and hitting on the only two females within a 50 mile radius.
It was getting a bit late .. and I was beat. Dan of course had other ideas .. he was starving, keep in mind it's about 2am. So, it was off on a quest for food that lead us to … White Castle. The bill came to almost twenty bucks for just the two of us. I asked Dan what he ordered … the number 10 Combo: consisting of ten Sliders, two fries and two drinks! That was just for him .. and he's just a scrawny little dude. The table was set and I was waiting to see just how many Sliders he was going to eat before he got sick. He actually did pretty good .. seven out of ten little burgers, topped off with Barq's Red Creme soda. We made it back to the Red Roof .. and set the alarm for 7:00am .. you see, the stage contest was on Saturday .. at 8:00am! You can only guess if we got up that early .. with a few hours of sleep, but I'll leave that for next time.
Steve