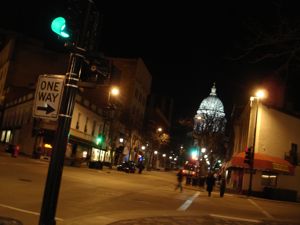 I'll get back to that in a second as I flip through my calendar to see what I've been doing the past few weeks.  I am on my new iMac and it's pretty cool .. it does take some adjusting but all in all no big deal.  I've been keeping busy with little stuff around the house.  I had some plumbing to take care of and after a few trips to Menards I got things under control.  All that kept running through my mind was an episode of  the Three Stooges with Curly as a plumber.   I guess you can say I'm a jack of all trades .. a master of none.
Oh .. and then there was the dentist thing.  Our regular family dentist dropped off the face of the planet.  After two years .. we finally gave up and had to find another.  Sure enough he's Italian and has a sweet tooth himself .. so that was a relief.  Now I do take good care of my teeth but, I had some old silver and mercury fillings that needed to be replaced.  Ya .. that's what they used to fill them in way back when.  It's a mechanical bond as compared to a chemical bond to the tooth that they use today.  Let's just say I ask a lot of questions while I'm in the chair.  I really don't enjoy getting "drilled and filled" but after three hours in the chair, I was ready to go home.
After a bit of torture it was time for a bit of fun.  My good friends Kevin and Cindy Spencer  were going to be performing in Madison Wisconsin.  They have one of the largest traveling illusion shows out on the road and that is no easy task in this day and age.  Valerie joined me on this little journey and we left early afternoon. 
It was about a two and a half hour drive one way .. and this time I planned ahead to stay the night.  Last time I saw my friends I had to turn around and head back home .. as it was getting a bit late for me to drive alone.  I used my trusty GPS unit to find my way to the Red Roof Inn and we were actually ahead of schedule.  On the way up we discovered that Val forgot to pack a few things.  There was a Kohl's near by and sure enough I had a coupon for 15% .. ya can't beat that.  I even found a few pairs of pants and another pair of shoes.  That worked out pretty well .. and it was time to head downtown for tonight's show.
We arrived at the Capital Theater and grabbed our seats.  Once again their show was sold-out for tonight's performance.  Kevin and Cindy really have things figured out.  Along with Keith and Ethan the show runs like clockwork.  If you're into big stage illusions, this is the show to see.  Kevin performs one after another with his own twist on things.  He's even performing an illusion that only Houdini presented on stage nearly 100 years ago.  It's one of my favorite new illusions and you have to see it live to really appreciate it.  By intermission they had the first half of the show packed.  This might not mean much to you .. but, they are out the door and loading the truck within an hour after the curtain closes.  This is just incredible .. like a well-oiled machine.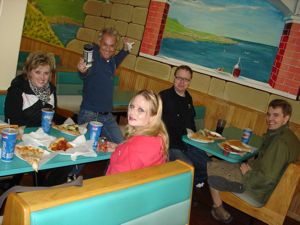 The show was awesome .. I can't say enough good things about them.  If they are anywhere near your area .. get your tickets and go,  you will really enjoy the show.  Just look up "Spencers Magic" and I'm sure it will pop up.   After the show we walked from their hotel down Main Street to grab something to eat.  It was already after midnight so our choices were limited.  I believe it was between gyros and pizza .. we opted for Italian, and it was an excellent choice.  We had fun relaxing and talking shop.  I had a few ideas for their show .. I just can't help coming up with stuff sometimes.  Turns out great minds do think alike and we discussed how some of the elements of the show came to be.  I brought a few close-up effects that I was working on and they really enjoyed that.  Keith being a magician himself really liked the card magic I showed him.  I could see his mind spinning with ideas for me.
It was already past 2am now and it was getting a bit chilly outside. It was a long day for all of us.  We walked back to their rig and said our good-byes.  It was well worth my trip to see my friends … and it was nice to get away, even just for a night.  Life on the road can be pretty rough .. sharing it with friends makes each night a special adventure.  I'm very lucky to have friends like the Spencers …
Steve