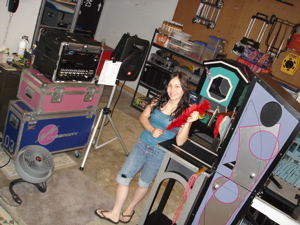 Last time I wrote was maybe a month ago .. I can't tell you how busy I've been the last few weeks, but I'll try.  First things first .. I've got to wrap up my summer adventures before I write about my recent trip to Tennessee.  It's almost 2am and I'm wide awake .. so here goes.
As soon as I returned from the Dells, it was back to work.  Besides a few shows on the weekend I was also training the new girl ..  Jacqueline.  She will be joining the long list of Chezababes that have shared the stage with me.  It's been a while since I've trained someone … and there is a lot to learn.  She seems to be picking up on things just fine.  She's really excited about performing and I think the kids will just love her.
It's the last week of August and it was time to catch up with some friends and have some fun.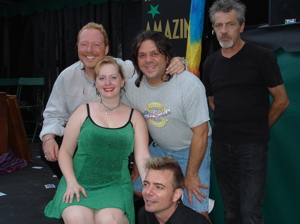 Angel was working with my buddy John, so I went out to see the show. We all haven't been together for a long time and we had a nice dinner afterward.  John and I have been friends for well over twenty years. We met at one of the local magic clubs when we were just getting started.  Time sure does fly when you're having fun.
The very next day we took a little road trip up north to see Alice Cooper.  Every time he's in town .. I'm there.  The show was in a beautifully restored theater in Waukegan, IL.   Alice never fails to get the crowd stirred up.  After the show it was time for a late night snack at the tollway oasis .. nothing like a healthy meal at midnight.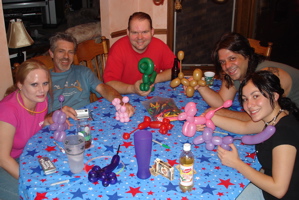 To finally wrap up summer we had a little cook out at my house.  Joining in the fun was Valerie, Paul, Tony and little Jacqueline.  My brother Jeff worked the grill and mother made a few things to go along with the meal.  We all sat back and relaxed a bit for a change.  It wasn't long before we broke out the balloons and learned a few new twists.  It was getting late and there was a chill in the air .. looks like summer is just a memory once again.
Steve