It seems that lately everyday is a new adventure .. well something is going on at least.  After a couple of shows on the weekend it was time to head up to Wisconsin with the boys.  Paul and I met up with my brother and his friend Jeff up in the Dells.  If you were watching the news earlier this summer, you may have seen Lake Delton literally vanish.  They had heavy rains over a short period of time and the lake began to rise.  Before you know it … one of the highways gave way and the lake emptied into the Wisconsin River.  Luckily no one was killed but, some homes were lost.  It was an awesome sight .. you can't mess with mother nature.
Our first stop was an "all you can eat" breakfast at Paul Bunyan's.  Not much has changed since we use to go there with my parents.  My dad could really fill up on breakfast while mother would sneak a few donuts in her purse for later.  We met up with our good friend Jeremy Schurtz and checked out his "secret warehouse of illusions"
or what most others would say … his storage unit.  There we found some treasures from the past .. including some of the hand made wands that Paul would sell after his show in the Dells.  We had a fun time just rummaging around and hearing some of the stories Jeremy recalled.
Later that evening we had tickets to see the Rick & Susan Wilcox  Magic Show.  They are both good friends of mine and have worked very hard to get to where they are at.  Its an amazing family show that everyone traveling through should see.  They even have their own theater complete with state-of-the-art sound and lighting.  The 90 minute show goes by fast .. all the latest magic and illusions are blended well from beginning to end.  After wards we usually go to Uno's for some pizza and wind up chatting until after close.  I really enjoy spending time with them .. very down to earth.  Before we left Rick offered us a tour of Lake Delton .. or at least whats left of it.  Of course we couldn't pass that up .. and we would meet the next day after lunch.
It was a late night .. but, we'll skip past some of those details.  I just remember seeing the alarm clock read 3:36am as my head hit the pillow.  For some reason I was up around 9:30 and everyone else was still out cold.  I decided to jump in the pool for a little bit .. and boy that was refreshing.  No one else was insight .. and the water was just right.  It helped me clear my head a bit .. then it was time to get the others up.  We went downtown to Culver's and had a few burgers.  I think we had some time to spare .. so, it was back to the Ho Chunk Casino for a brief visit.  I think I dropped about $20.00 and called it quits .. I just can't see throwing my money away.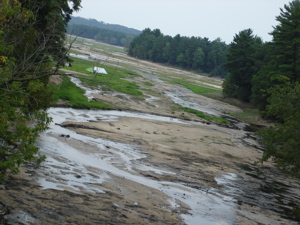 Back to the story .. we met up at Rick and Susan's beautiful home on the lake.  We actually passed it a couple of times using the GPS .. but, we eventually found it.  After a quick tour of the house we ventured off into the back .. and there was nothing left of the lake.  If you look close you'll even see a few deer passing through .. its very strange.  Rick had some amazing footage of a few homes that actually washed away.
Our plan was to head back home later that night and Rick invited us to see the show again.  I of course can't pass up a magic show .. so, Paul and I went again.  It was after 9pm when the show let out .. then Rick wanted to grab something to eat with us.  I can't say no to him .. we had too much fun the other night.  It was off to Monk's and then we had to hit the road .. it was getting late.  We were hungry and I wanted to try the "breakfast burger."  Let me just tell you .. it's on the top of my all time favorite burgers right now  .. wow.  Paul thought I was out of my mind …. but it was good.
It was after 11pm and we still had like three hours of driving ahead of us.  I was already pretty beat but managed to drive about half way.  Paul took over the second half of the drive while I fell asleep in the back seat like I use to when I was a kid.  By the time I made it home from his house .. it was just about 3:30am.  I just have to remember,  I'm not 20 years old anymore …
Steve