As I write fall has settled in, its just about 60 degrees out and its been raining on and off all day.  The leaves are changing color and many are falling to the ground.  I'm actually watching the presidential debate and trying to catch up on some things on my desk.
We're going to go back now .. about a month and I'd like to tell you about my little adventure to Pigeon Forge Tennessee.  One of my best friends has made his home down there and just last year got his own theater.  Terry  and I grew up together out here in the suburbs of Chicago.  He wasn't even driving the first time he came over to visit.  I think he was taken back by the amount of equipment I had amassed over the years.  It wouldn't take long for him to catch up though .. it was almost like a little game.
My flight out was delayed .. and by the time I finally arrived in Knoxville it was almost 1am. 
Terry had just finished performing a few hours earlier and was waiting patiently.  I figured he would be tired by the time we arrived at his house .. but, he gave me the full tour of his house.  It was probably around 4am by the time I went to bed.  Lets just say .. its Halloween all year long at Terry's house.  Each room has a different theme in fact it even has one of those sliding bookcases to reveal a hidden stairway .. for real.  Even the bed I slept in was underneath the floor of a small stage he had set up in the living room.  In one corner was a sarcophagus and in the other was a full-size skeleton sitting comfortably in a chair.  Perfectly healthy .. perfectly normal.
I was up early as Terry was having a deck added on .. and they were making a bit of noise.  I quickly discovered there was no TV and I left my laptop at home.  I did have a few things to read to occupy the time.  Our first stop of the day was to meet up with Tammy for lunch.  She worked with Terry for over twenty years on and off stage.  It was great to catch up with her.  Afterward Terry showed me around town, we had some dinner and it was showtime.  Terry's show is a the Magic Beyond Belief theater on the main strip.  Its been his dream to have his own show, in his own theater .. and sure enough .. his dreams have come true.  I can't tell you how proud I am of him .. he really deserves it.  He's worked hard all his life to achieve this.  He's been trying to get me down to see the show for quite some time .. and finally I made it out.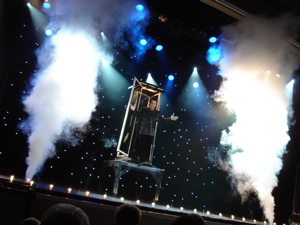 The show looks like a million bucks .. his performance is flawless.  With over 700 performances in the last year and a half .. its no wonder how good he is.  If your ever in the area .. don't miss it, trust me .. you won't be disappointed.  I don't know how he does a full 90 minute show, sometime twice a day .. every day.  Maybe that would explain why he sleeps until noon.
After the show I got the backstage tour .. which was just as amazing.  There's even a special habitat set up for the tiger in the show .. a real 450 pound royal white tiger!  With all the illusions and other equipment involved in the show .. there's barely room to move backstage.  The dressing rooms are tiny and hidden behind the back curtain with just enough room to make the next costume change.  It was time to head back and rest up for day two!
Steve