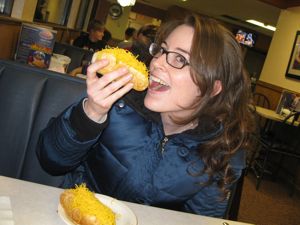 Today was a record high .. over 80 degrees in the Chicagoland area. Â I'm still writing about my adventure a few months back in February. Â Can you believe it … I'm so far behind. Â Bare with me as I try to catch up on things … so, here goes. Â We left off with a quick bite to eat at Skyline Chili before the big evening show in downtown Columbus, Ohio. Â As you can see Carol enjoys the Coney Dog as much as I do.
The evening show was the highlight of the convention, a showcase of some of the best talent from across the country. Â All but one act met the challenge .. and nearly brought the whole show down with him.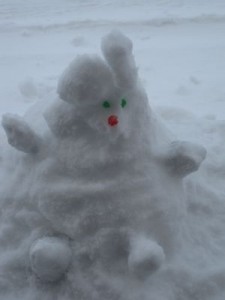 I don't need to name anyone but,  someone dropped the ball on this one.  Let's just say this "act" had no business being on stage. I could go on .. but, I'll save it for the MagicCafe.  I think we made our way back to the convention center and then maybe a late night stop at the Waffle House for breakfast.  The schedule was pretty simple .. Eat, Sleep … Magic!
Now we're looking at Saturday morning .. well, eventually I woke up. Â I believe I missed a lecture or two … once again, sleep was a priority. Â Lunch as you may have guessed was another stop at Skyline Chili .. I think. Â The snow had finally stopped and there was an accumulation of 14 inches over the past two days. Â I was pretty confident that the roads would be clear on Sunday for the drive back home. Â There was one full day left of the convention that included lectures, close-up magic and the evening show. Let's not forget the dealers room, filled with all the cool props and gimmicks that we can't live without. We're really not much different than kids in a candy store.
After visiting with friends and the conclusion of the convention, it was getting late and our options for dinner were limited. Â Then I remember spotting a Steak n' Shake not far away. It was a nice way to end the night and get some rest for a long day of driving tomorrow. Â First stop .. well, milk and donuts at Tim Horton's .. then up north to Bowling Green, Ohio to visit with my friend Owen Redwine and his family. Â It's about two hours north and then another five hours back home from there. Â We all had lunch at Penn Station and had a real nice visit. Â My little buddy Connor is seen here devouring a cookie just about the size of his head. Â I remember showing the boys a little magic and even performing the Pom Pom Stick out in the parking lot. Daylight was burning and I still had the majority of driving left to do. Â Even for a few days .. it was nice to get away from the chaos back home. Â The journey is long and cold but, the friends I've made over the years make it all worth while ..
Steve