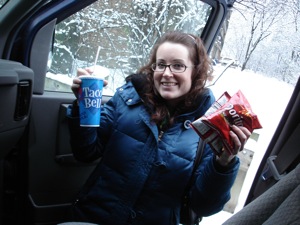 Like most people .. December is a very busy time of year. Â In the line of work I'm in that can consist of multiple shows, in various locations .. all in one day. Â This year my schedule was so tight that I actually duplicated my show .. every effect, all the supplies and even the sound system in order to have it previously set up in another location. Â It may sound a little confusing but, there just wasn't enough time for us to unload and set up between show times. Â I've only heard of a few big time bands that have duplicate set-ups .. and let me tell you, it was the only way that we could have pulled it off. Â In fact, we had five minutes to catch our breath between the first and second show that day. Â Along for the ride was our Chezababe in training .. Carol. Â She's still learning the show and doing a great job .. even with pages of notes, it's not an easy task. Â Not to mention putting up with me for hours at a time, the glamorous life on the road includes nutritious meals along the way. Â Not only that .. we had to deal with our first heavy snow of the season. Â That all adds up to extra work getting equipment in and out of the venues were performing in. Â It's all part of the game.
I was lucky enough to have kept busy with shows this month, it has not been easy for many entertainers considering how our economy has been. Â Of course after the holidays are over .. things will slow down until February, when the Cub Scouts of America schedule their annual awards banquet known as the Blue and Gold Dinner. Â This is a special night for the members to receive their awards and badges they have earned over the year. Â Many times they are treated to some fun entertainment provided by a magician or illusionist .. such as myself. Â We've been the featured entertainment at many of these events especially right here in Naperville for well over 25 years. Â If you have someone involved in Scouting, be sure to drop my name.
Of course there has been some time to visit with friends and family the past few weeks. Â 
In fact I took up some target practice with my little buddies Colin and Tyler. Â If you're a returning visitor to my site .. you'll know exactly who they are. Â The boys are growing up so fast .. it's amazing. Â We had a fun time and Carol and I had a long drive home in another snowstorm.
Just the other day my good friend Blade and his dad, Carl were in town for a visit. Â It was also my mothers birthday so, we all met for dinner in downtown Naperville at the Montana Grill. Â We had a fun visit and then headed over to the Apple Store just down the street. Â They know me by name over there .. I'm not even kidding. Â For some reason I just can't keep myself from going in there when ever it's in sight. Â I've said many times, that I should just get a job there.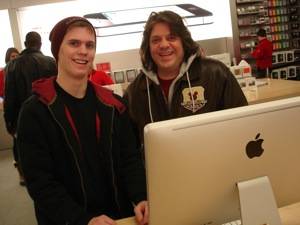 It was getting late and the temperature was dropping so we called it a night. Â The last time I saw my buddy was back in August at the Abbott's Magic Get Together. Â You can find us working backstage with some of the top magic acts from around the world. Â We work hard but, we sure have a fun time being part of one of the longest running magic events in the country.
The clock is ticking and 2010 has flown by .. I still can't believe it. Â Yes, there are some huge gaps here on the blog and maybe I'll get a chance to fill them in one day. Â I've been told by more than one person that I should write a book about some of my adventures. Â I'm not so sure anyone would believe them …
Happy New Years to my friends around the world .. may you find peace and happiness in the coming year!
Steve