Question: Where does a 100 pound German Shepherd sleep?
Answer: Anywhere he wants.
Now is as good of time to write a quick note. Â I lost my bed to Rexx this morning. Sure he left me a corner of it .. but, I figured it was time to get up anyway. Â Tomorrow I leave on my annual journey to the Columbus Magi-Fest. Â It's an annual gathering of magicians from across the country and this year marks their 80th anniversary. Â I've been attending since the early 90's and I look forward to it every year.
You would have to be out of your mind to make the lateral move from cold and snow to more of the same. Â It couldn't come at a better time though .. in the dead of winter it really lifts my spirits.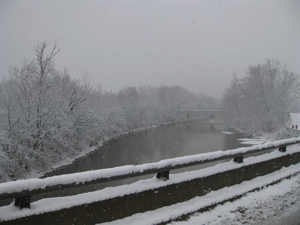 My good friend Carol will be the co-pilot for the trip. Â She'll remind me to watch my speed and to check in with mother while I'm away. Â It's only a few days out of town but, we've got a lot to do. Â Along the way we'll be making stops to visit friends in Dayton, Columbus and Bowling Green, Ohio. Â I think I've got just about everything ready for the trip .. including my iPad. Â We'll have to dress warm of course .. but, I do have a pair of swim trunks just in case.
Ya never know …
Steve