Again its a few days later and I'm trying to catch up on things around here.  I had to turn the heat on as it has dipped into the 50's at night.  Fall is definitely in the air with the smell of burning leaves surrounding the area.  Now back to the story.
My good friend Erick Olson was also going to be in town to perform for a resort.  I actually planned my trip so I could spend time with both of my buddies.  We met up with Erick for lunch and went back and forth with stories from the past.  Erick is originally from Wisconsin and moved to Florida over ten years ago.  We all keep in touch by phone, but we were finally together in person.  After lunch I gathered my things and jumped in Erick's mini-van.  I was staying in his suite the next two nights .. after all they had a TV in my room.  Erick was actually performing that night and we would go see Terry's show right after he was finished.  It was a private group so I stole the mini-van and headed over to Wal Mart to grab a few things for the room.  Erick finished right on time and it was a short drive down the strip to Terry's theater.
Before we arrived Terry had set aside some tickets for us.  Sure enough he also told the girl in the ticket booth to give me a hard time.  She had me going .. trying to spell my name a few different ways and so on.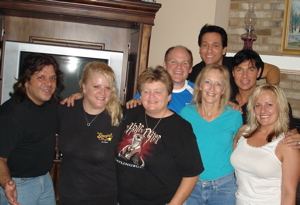 We walked in just as the show was starting.  It was fun to share the experience with Erick,  we all grew up together.  After the show we were all going to Tammie's house for a little gathering.  It had been quite a few years since we were all together.  I can't tell you how much fun we had watching some old videos from one of our tours.  Once again it was a late night .. but, I'm on vacation.
After a bit of rest, I was up watching the commercials for the local attractions.  We were planning on going to Dollywood after lunch with Terry, so we had some time to kill.  We drove to downtown Gatlinburg for a little shopping while we waited for Terry's call to meet up with him.  Sure enough he arrived at Dollywood just before us .. he said "it was like Wally World."  Confused .. I asked,  "no one is there?"  Sure enough the park was closed during the week.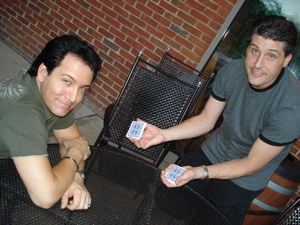 I guess we should have checked the fall schedule.  Instead we met up with a few others from the show to see "Miracles" afternoon show.  We made it just in time .. of course I didn't want to keep Jesus waiting.  It was an amazing production, complete with flying angels .. and of course a singing Judas.  We got a backstage tour and even met the Devil in his street clothes .. he wears plaid shorts, glasses and sandals .. go figure.  Later that day Terry set us up with tickets to the Black Bear Jamboree dinner show.  We had some time to kill so the cards came out and Erick and Terry showed me a few things.  They have been doing card magic from the beginning .. I'm still learning.
After the evening shows we all met up for a late night snack at Mel's Dinner.  It would be the last time we got together before I had to head home the next day.  The years have passed but, we've all stayed close friends.
The next day, Friday .. things were heating up.  I wasn't heading back until later that afternoon so, Erick and I wondered up and down the strip to see the car show.   We grabbed some lunch at Fudruckers and it was off to the airport.  I was flying stand-by so I had to cross my fingers to get on a flight.  Back home we had storms .. all day.  There were two flights left out of Tennessee and after a two hour delay .. they announced the first flight was cancelled.  My hopes of getting home started to fade .. everyone on the first flight would just fill up the last one .. right?   I had already been at the airport since 3:30pm and it was almost 8:30pm.   I'm not one for sitting still .. but I patiently waited.   The nice lady at the counter slipped me a ticket for the last flight out .. and I was finally on my way home.   The fun and laughs we had together made it all worth while …
Steve