Its hot out and summer is just flying by. Next week I'll be heading out to Abbott's. In many ways its been a long year and I'll have a bit of explaining to do about all the television appearances I made last fall. If you've been keeping up with me .. you'll know exactly what I'm talking about.
I keep busy but things have definitely slowed down as compared to last summer. The economy really hits the entertainment industry .. hard. With the price of gas and everything else that goes with it, you can imagine the cost of producing a show has increased. On top of all that .. everyones budget is getting tighter and tighter. Of course this is affecting everyone and hopefully things will eventually turn around .. it can't get much worse.
Last Saturday I took some time to visit my little buddies out in Marseilles, IL. Their church was sponsoring a special "Movie in the Park" night and I entertained the kids before dark. I got out there early so I could spend some time with Tyler and Colin. You'll have to go back and read about them too … it's a long story. Anyway the boys are getting big, last time I saw them was in February. Tyler is almost seven and Colin will be four on his mothers birthday in November. We played in the park before the crowd arrived. Any time I have with them is very special .. its hard to put in words.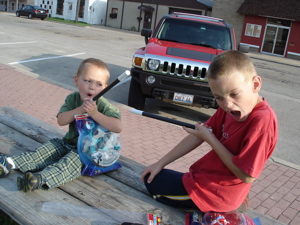 I stayed for part of the movie and sat with the boys. It was getting late and I still had over an hour to drive home. A lot goes through my mind on the way home, its still a very sad story. Of course, I'll be lucky enough to see the boys grow up as time goes by. I can see a little bit of Tina in both of them.
I'm sure she's watching from above …
Steve