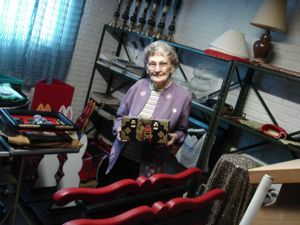 It's already been a month since I've been back from Ohio .. but, there is plenty to tell so here goes.  The journey began late Wednesday night with my first stop in Indianapolis, Indiana.  It was easier to break up the trip rather than drive all night.  After a good nights sleep it was off to Dayton to visit my dear friend Mrs. Sheppard.  Even at 83 she's still very independent and full of energy.  Her late husband Walter was one of my magic mentors.  He shared his secrets of magic and woodworking .. I will always remember the many things he taught me.  After a few hours of fun and a quick trip to the grocery store to pick up some Esther Price candies, it was time to hit the road again.  The annual Magi-Fest convention begins tonight!
The weather was clear and we arrived just in time for the evening show. Â Afterwards, the dealers room was open and I was like a kid in a candy store. Â It's always fun to see whats new in the world of magic. Â I believe the close-up show was on the same night and I really looked forward to seeing some real sleight-of-hand.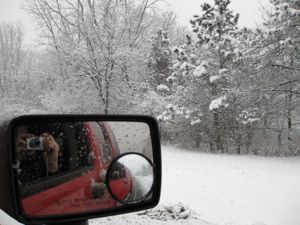 It was past midnight before it was time to grab a little something at the local Waffle House. Â It was a long day .. and the adventure was just beginning.
The talent contest began at 8am but, you guessed it .. I opted for sleep. Â Of course I do have my priorities .. and sleep comes first even though I really do enjoy the contests. I rolled out of bed around 10am only to discover it was snowing … and it was coming down heavy. Â They were forecasting eight inches or so for the weekend. Â I'm not sure what the final total was but, there was really no better place to be snowed in than with 600 fellow magicians!
The first stop of the day was to see my good friends at Cabbage Cases in Columbus, Ohio. Â My buddy Mike Hannah took Carol and me to lunch at a fun place called Cap City Fine Diner .. everything was awesome! Afterward we headed back to the factory for my annual show. Â I perform right there in the middle of the factory for the crew.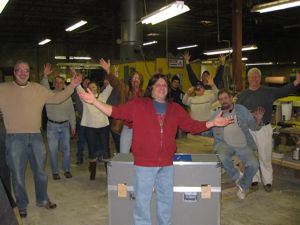 It's a fun break in the day for them and I really enjoy performing for some very hard working people. Â They manufacture many of the ATA style cases used to transport my equipment from show to show. Â They always treat me like royalty and I look forward to seeing them each year.
It was time to make our way through some of the snow covered highways back to the convention at the north end of town. Â There were a few lectures in the afternoon that I wanted to catch along with meeting up with my good friend Tom Rozoff. Â He was arriving later that day and we would grab some dinner before the evening show. Â We met up at Bob Evan's although I really had a taste for a couple of Skyline Coney Dogs. For some reason the waitress didn't get around to our table fast enough .. and we were on a schedule that night. Â We made a quick exit and headed across the street to .. you guessed it Skyline!
Stay tuned for the rest of the trip …