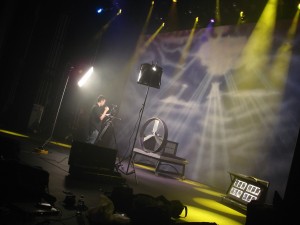 It's a good thing I wasn't turning this stuff in for college credit … I'm late again! Â I left off some time in February .. I think. Â I'm going to turn back my calendar and see what we skipped over. Â Ah, first bit of significant information I see is that I lost my gig at Max & Erma's right after Valentines Day. Â I had been performing Close-up Magic there for almost five years. Â Times are tough .. and all entertainers were cut from the chains payroll. Â I can't tell you how I miss many of my little friends that would come and see me every week. Â It's sad but, business is business and I'm thankful for the many years of employment from the chain. Â Who knows .. maybe I'll be back one day.
Now that I'm nearly unemployed .. lets see whats next on my busy schedule. Â Finally something fun, my good friends the Spencers were coming to town. Â I've written about them before, they have the largest traveling illusion show in America .. second only to David Copperfield. I think that's quite an accomplishment itself. Â Their fun, family show was near by,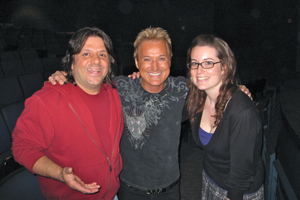 so I spent the day with them. Â My buddy, Greg Mulvey of Presto Productions was filming a few bits for future projects. Â After the work was done I had a chance to sit and chat with Kevin .. one on one. Â It was really nice just to relax for a few minutes and talk shop. Â On a show day, we're always rushed .. and there are a million things to attend to. Â I also shared some time with Keith Barber and Kevin's wife Cindy. Â Their show is really special and if they are ever in your area .. get tickets fast, as they sell-out frequently. Â I had a great time with the Spencers and the crew .. I can't wait to see them again.
Now I've got you caught up with to the beginning of April .. lets see what else I can cover in a few paragraphs. Â As you might have guessed, writing wasn't one of my stronger subjects in school. It's funny ..
I'm writing more than I ever did before. Â So, only a few weeks later there was a special show and tribute to my good friend Marshall Brodien. Â He of course was one of the stars on the Bozo Show here in Chicago better known as Wizzo the Wacky Wizard. Â The event was held at the beautiful Raue Center in Crystal Lake, IL. Â It was a real fun time and Marshall asked me to assist on stage with his infamous Blade Box Illusion. Â His lovely wife Mary was ready and willing to jump in the box. Â I few years back, I recreated this very prop that Marshall used at Riverview Park. Â After the show there was a reception for Marshall and his guests .. a fun time was had by all. Â I'm going to pick up the very next day .. it's been one thing after another over here. Â I still have tons of photos to go through .. you would think I have plenty of time on my hands now .. right?
Steve