Again .. lets give this a shot.  It's almost 2am and I'm just sitting down to type this out.  In real time it will be August tomorrow .. and I'm still writing about my adventures in June.  I've been busy getting things ready for our show at Abbott's next week .. and if I keep this schedule up, I'll be writing about all that in October.  I can't even imagine it will be fall before you know it.
I'm flipping my calendar back to the end of June .. I made a field trip with my brother to the Brookfield Zoo.  We met up with my friend Carol and her mother on a very warm day in the Chicago area.  To make things more complicated .. you guessed it, my brother was still in a wheelchair.  The zoo was .. alright, half the exhibits were closed .. yet, they still charged full price at the gate.  I was really looking forward to the Reptile House .. and sure enough, it was closed for remodeling.  I can still remember what a thrill it was to see all the giant snakes when I was a child.  Who knew I would "talk" with snakes when I grew up.  We survived our adventure .. I was pretty beat afterward,  my brother just sat back and enjoyed the ride.
The following day was one we were both looking forward to.  I think it had been five years since we saw KISS play live.  We made the drive up to Milwaukee's Summerfest to see our favorite band once again.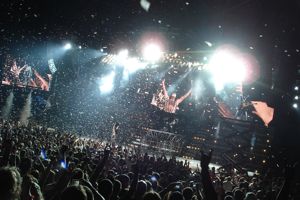 The fest is a pretty big deal and there were over 18,000 other KISS fans there to join in the fun.  This time around would be a little different .. seating in the handicap section.  It was the only way my brother would be able to see the show, and it worked out just fine.  I was happy to be there .. anywhere.  KISS never disappoints and the show was simply awesome!  The band is celebrating 35 years and played many of their classic tunes.  We slowly made our way back to the car .. and grabbed  some Burger King for the ride home.  I've been a KISS fan since I was just a kid .. I still get excited when the curtain drops, and the band comes down from the rafters.  There is nothing better than a KISS concert .. nothing!
The following week was the Forth of July and Naperville hosts and event called Ribfest.  Food, fun and fireworks .. sounds good to me.  This time around my brother stayed home as the event is in a grass field.  Getting around would have been a bit of a challenge .. actually, near impossible.  The event has grown in size over the years and some big name acts have played right here in town.  I went with my buddy Paul to see Heart on Thursday and Huey Lewis & the News on Sunday.  We made our way near the front of the stage for both bands .. and they sounded great.  I was really surprised at how many hits Huey had back in the 80's.  They played him so  much on MTV that I was sick of them back then.  Now, it's fun to hear the old tunes and remember what was going on back then.  I ordered their Greatest Hits CD from Amazon a few days later.
We are well into July now .. and my cousins are coming over for a visit.  My little buddy Rex made a new friend .. as you can see they both had fun playing in the backyard and getting some fresh air.  Rex is always very gentle and patient with little ones .. even at his size. We relaxed and had some dinner with family .. after all, isn't that what summer is all about??
Steve