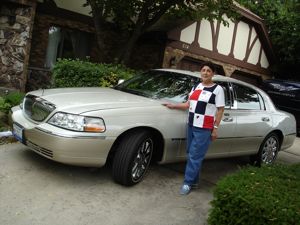 Wow .. I left off last month burning the candle at both ends.  Not only was I taking care of my mother but, I was also carting my brother around in a wheelchair.  I'll see if I can bring things up to date as a lot has transpired in the past month.
We managed to attend a Kane County Cougars game and once again that wasn't easy with my brother on crutches.  Only a week later we would be in a crowd of 20,000 screaming KISS fans .. so I figured this would be a good test run.  We stuck around for the fireworks after the game and it was nice to sit and relax for a few hours.
The following week was interesting .. I think I was driving my brother back home from a few hours at his work in Aurora.  He still couldn't drive at the time and we needed mother's car to get him around.  It was hot out and mother's car has been around for some time.  It was a 1993 Lincoln Town Car with plenty of room in the back seat. That's what was key here .. otherwise I would have to take the van to get him around.  So .. we're on our way and I've got the air on.  I smell something buring .. figured it was outside.  We roll down the windows .. and the smell seems to follow us.  Then there's a little plume of black smoke near the front end .. my brother starts to panic.  Fire .. fire! Get me out of here!!  I of course didn't panic but, I knew something wasn't right.  We were only a mile or so from home and I figured we would make it .. fire or no fire.  His leg is still locked in a brace, his crutches are in back .. and he's freaking out.  I of course made fun of him as he couldn't get far in or out of the car.  As you guessed we made it home alive .. and my friend Paul diagnosed the problem over the phone.  It was the drivers side caliper .. part of the brakes that was sticking.  You couldn't even touch the rim on the drivers side it was so hot.
I knew it was a simple fix but, to appease mother I said I would take her to look at cars that night.  Well, we went staight to the local Lincoln dealer .. Rizza of Naperville.  With the amount of driving my mother does .. she really didn't need something brand new.  It seemed as if someone was looking out for us as the dealership just took in a late model Town Car with all the options .. even a moon roof.  I would be doing most of the driving and for some reason this was a  key selling point for me.  That and the fact that it only had 17,000 miles on it.   I normally don't rush into things … but, I really didn't want to pass this one up.  I've bought plenty of cars and I wanted to make sure mother got a good deal.  It was near closing time so I told him I would be back at noon to take it for a ride.  At the same time I arranged for Paul to repair my mother's car over night.  I carefully  drove over to his house and then he could drive it to his gig at the Buffalo Wild Wings in Warrenville the very next day.
After dropping Jeff off at rehab, I returned with mother to the dealership and we took it for a test ride.  It was a smooth ride and it was just a matter of making a deal.  I really never expected to find a car that fast but, like I said .. I think it was there for us.   Of course we had to take it off the lot .. that's how they do business and .. I would drop off mother's old car the following day.  You see ..Paul was repairing the brakes at the very same time.  So,  I left my car at the dealership as I was the only one driving in the family.  We grabbed my brother, had some lunch and then I had to work at the Buffalo Wild Wings in Naperville that night.  I met up with Paul, my mom and brother for dinner and then drove Paul back to his house.  Now it was just a matter of dropping off mother's old car and picking up mine at the dealership.  Everything went smooth and sure enough they were impressed with her old car.  In fact .. the business manager sold my father the car back in 1995.  I guess you could say we're loyal customers.
Now at least,  it's one less thing that mother can complain about .. she's got a new set of wheels!
Steve