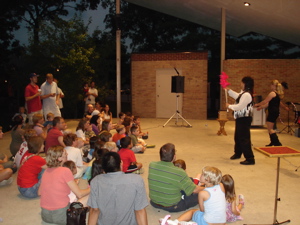 Not every show goes as planned and last night was a mess. We had storms earlier in the day but things seem to clear up. Our show was an early evening show for the Wheaton Park District. It was part of the "Summer in the Park" series on Monday nights. Tony and I arrived with plenty of time to set up. It was hot and sticky but the skies were clear. I checked out the band shell ahead of time .. so I knew exactly what to expect. Nothing is better than relaxing and watching a show under the stars .. well, most of the time.
As show time drew closer the sky grew darker, the trees were still. No reason to panic just yet. The crowd started to arrive around 7:00pm with our show starting half an hour later. I was tempted to start early but, there were still more people showing up. As a precaution we decided to move the whole show back and bring the audience up on stage with us. Tony, Paul and Val went into action and within minutes I calmly told everyone they were going to get to see the show "up close." Just as we got things started the tornado alarm could be heard in the background. A light rain just began to fall .. and my little fans sat patiently. I'm not one to give up without a fight but, I was more concerned with everyones safety. I had to call the show .. I told them I would come back some time soon. Everyone understood .. it was obviously out of my hands. Everyone else got to their cars before it hit. We scrambled to get the props in their cases as fast as we could. The rain and lightning surrounded us .. the band shell kept us safe.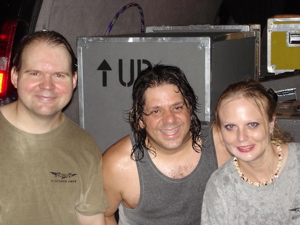 I felt a little like the captain of the Titanic, I wasn't going to leave my ship .. well, my props at least. Once everything was packed we stacked it against the back wall and ran for cover until the storm passed. We waited about a half hour and went back to load the van. Needless to say .. we were soaked to the bone, but we all survived. My little fans made it home safely and thats all that really matters.
Tomorrow I hit the road for a few days in Colon Michigan for the Abbott's Magic Get-Together. I'm sure I'll have a few interesting stories from on the road. Stay tuned ..
Steve